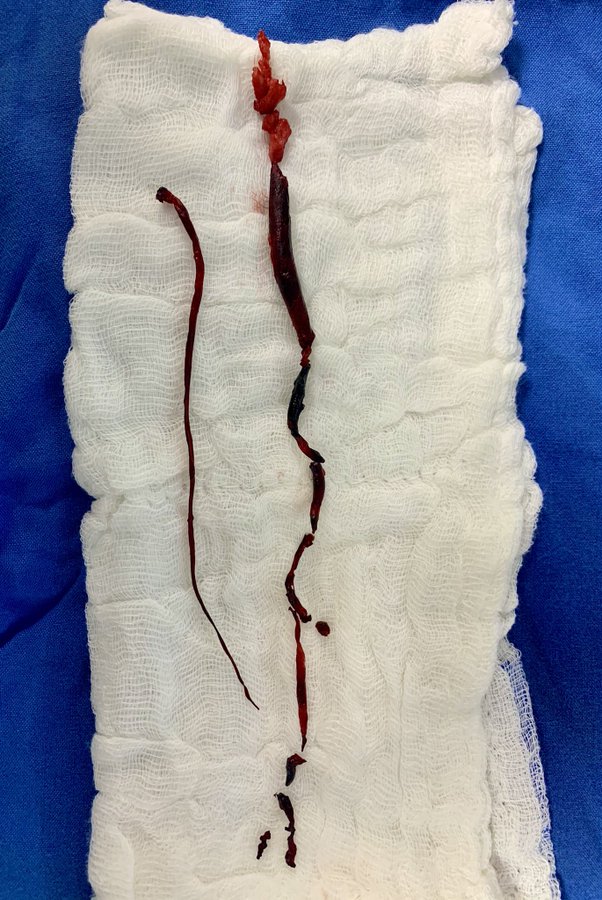 Так выглядит ковидный тромб, который индийскому хирургу

Ambarish Satwik

удалось извлечь из сосуда одной из конечностей пациента, чтоб избежать ампутации.
Нестероидные противовоспалительнеы препараты, безопасны при ковиде, улучшают симптоматику, помогают выздороветь быстрее и тд.
Правда, этот мета-анализ показал, что риск ишемического инсульта- растет.
based on current evidence, we found exposure to NSAIDs, including aspirin, ibuprofen and naproxen, was not associated with increased risk of developing COVID-19 or worse outcomes in patients with COVID-19.
use of NSAIDs was significantly associated with better outcomes, including severity of COVID-19 (OR=0.79, 95%CI: 71-0.89; I2=0%) and death (OR=0.68, 95%CI: 0.52-0.89; I2=85%) in patients with COVID-19. Regarding safety outcomes, exposure to NSAIDs was associated with increased risk of stroke (OR=2.32, 95%CI: 1.04-5.2; I2=0%), but not with myocardial infraction (OR=1.49; p=0.66; I2=0%), overt thrombosis (OR=0.76, p=0.50; I2=28%) and major bleeding (p=0.61).
Several drugs with the potential of increasing ACE2 expression have provoked great concern for potentially contributing to the spread of COVID-19 in the population, including ACEI/ARB[57] and NSAIDs[4]. However, as suggested by some researchers, there is a long way from bench to bedside. The evidence derived from mechanistic or theoretical pharmacology should be cautiously interpreted when drawing conclusions[58]. regarding NSAIDs, a potential risk increase in COVID-19 with the use of NSAIDs was not found. There are several possible explanations for these findings. Firstly, although animal studies showed that ACE2 receptor expression is significantly increased by ibuprofen[62], a recent report found two commonly used NSAIDs, including ibuprofen and meloxicam, have no effect on ACE2 expression, viral entry, and viral replication in a mouse model of SARS-CoV-2 infection[63]. Furthermore, no human studies have assessed the effect of ibuprofen on ACE2 expression, particular in the lung tissue. Secondly, whether there is a positive dose-response relationship between ACE2 expression and the risk of COVID-19 infection remains unknown. The most recent evidence derives from COVID-19 and inflammatory bowel disease. Higher ACE2 protein expression was shown in terminal ileum and colon in patients with inflammatory bowel disease compared with controls[64]. However, there is currently no evidence of increased risk or aggravated outcomes in patients with inflammatory bowel disease in the context of COVID-19[65]. Collectively, based on current data, both experiment and clinical, we suggest that there is no evidence of a positive association between NSAIDs and the risk of COVID-19.NSAIDs are well-known anti-inflammatory drugs that inhibit the cyclooxygenase (COX) isoforms COX-1 and COX-2. It is well-established that hyper-inflammatory responses underlie the pathology of severe COVID-19. Indeed, cytokine production is significantly increased in COVID-19. Recent findings demonstrated that NSAIDs decreased the production of a subset of proinflammatory cytokines, including Interleukin 6, and tumor necrosis factor alpha [70, 71], which might reduce the incidence of cytokine storm in COVID-19[70, 71].we also found a significantly increased risk of stroke, but no overt thrombosis or myocardial infarction rate elevation after NSAID use in hospitalized COVID-19 patients by pooling two propensity score-matched studies. The somewhat contradictory results were interesting. A possible explanation between thrombosis and clinical findings is the examination of overt thrombosis and microthrombosis, which is usually the cause of thrombosis stroke. It is well-known that the presence of microthrombi does not correlate with overt thrombosis. Microthrombosis is better diagnosed with video-microscopes, dark-field images, and spectral images. Therefore, further researches should use more effective tools to comprehensively elucidate the effect of aspirin or other NSAIDs on thrombosis.It is well-known that NSAIDs increase the risk of major bleeding, e.g., upper gastrointestinal complications. Chow et al.[12] found no significant increase in major bleeding in patients administered aspirin, which might be explained by the fact that patients with COVID-19 are frequently hypercoagulable, and thrombocytopenia is uncommon in COVID-19 patientsюIn the above subgroup analysis, we found that all types of NSAIDs (aspirin, ibuprofen, and naproxen) were safe for the primary care of all COVID-19 patients, which is consistent with our main results.