Повышает вероятность подхватить ковид (и умереть от него- тоже).
Возвращаясь к посту про "разделение по партийному признаку" заболеваемости в США, есть уже опубликованные данные о том, что граждане, поддерживающие трампа, были менее склонны соблюдать рекомендации по соблюдению дистанции и локдаун (какой он ни был скромный в США) весной (геолокационные данные смартофонов ( по 15 млн, ежедневно) по округам США (3025), голосовавшим, преимущественно или за трампа, или Хиллари Клинтон в 2016, были собраны с 9 марта по конец мая).
И в связке демографических факторов, могущих играть на руку расространению вируса (как то плотность популяции, род занятий, пол, возраст, доход, трудоустроенность, частота посещения магазинов, религия, итд), эта склонность оказалась на первом месте.
"Голосовавшие за трампа" в 2 раза чаще посещали в период "локдауна" не важные бизнесы ( в их группе снижение на 9% по сравнению с 19% в группе "голосовавших за Клинтон").
На 14% жители "республкианских" округов были менее склонны соблюдать социальные дистанции, чем жители "демократических".
Кроме того, была найдена так же связь между таким поведением (и последующим более высоким уровнем заболеваемости и смертности) и популярностью у населения округа "Фокс Нюьз".
Чем больше смотрели Фокс, тем меньше были склонны выполнять противоэпидемические меры.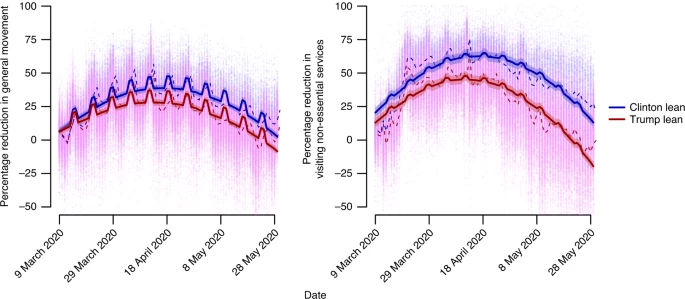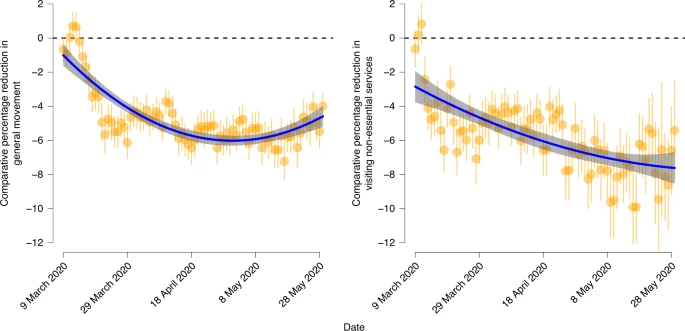 Абстракт статьи Partisan differences in physical distancing are linked to health outcomes during the COVID-19 pandemic, Nature Human Behaviour volume 4, pages 1186–1197(2020):


[

Spoiler (click to open)

]

Numerous polls suggest that COVID-19 is a profoundly partisan issue in the United States. Using the geotracking data of 15 million smartphones per day, we found that US counties that voted for Donald Trump (Republican) over Hillary Clinton (Democrat) in the 2016 presidential election exhibited 14% less physical distancing between March and May 2020. Partisanship was more strongly associated with physical distancing than numerous other factors, including counties' COVID-19 cases, population density, median income, and racial and age demographics. Contrary to our predictions, the observed partisan gap strengthened over time and remained when stay-at-home orders were active. Additionally, county-level consumption of conservative media (Fox News) was related to reduced physical distancing. Finally, the observed partisan differences in distancing were associated with subsequently higher COVID-19 infection and fatality growth rates in pro-Trump counties. Taken together, these data suggest that US citizens' responses to COVID-19 are subject to a deep—and consequential—partisan divide.
И некоторые выдержки из результатов и дискуссии.


[

Spoiler (click to open)

]

To put our findings into context, our model indicated that extremely pro-Trump-voting counties (+2 z-score in the vote gap variable) experienced a daily infection growth rate of 0.59 percentage points higher than average (between 26 March and 29 May 2020, the average daily infection growth rate across all counties in this date range was 5.72 percentage points..)
Our findings thus suggest that partisan differences in physical distancing were linked to higher growth rates of infections and fatalities in pro-Trump counties than necessary...
we found that stay-at-home orders actually exacerbated the observed partisan gap; that is, stay-at-home orders appeared to be more successful in encouraging Democratic counties to physically distance than Republican ones. This difference may be driven by more Republican-leaning counties ignoring local stay-at-home orders in light of national messaging from right-wing media and federal leaders; or, Republicans may simply hold a greater distrust of government than Democrats..
Republican-leaning media outlets appear to have downplayed the dangers of the coronavirus as compared to more Democratic outlets. For instance, in early March, Fox News repeatedly claimed that the coronavirus was less dangerous than influenza and even referred to other media reports as a hoax (although some commentators took it more seriously than others, and the organization took the pandemic more seriously by mid-March 2020)51. Consistent with this messaging about COVID-19, we found that US counties that consumed more Fox News than Democratic-leaning outlets (MSNBC and CNN) exhibited less physical distancing. These findings also remained significant when controlling for counties' partisanship in terms of 2016 voting. These results, along with self-report data indicating similar findings22 and evidence indicating a causal link between Fox News viewership and decreased social distancing33, suggest that Republican-leaning media downplaying the virus at the start of the pandemic may have signalled to Republicans that they should not take the virus very seriously, in turn potentially in part causing the observed partisan differences.
ну и вся статья, далее, рекомендую почитать на сайте.